A Concert of Musical Theatre Songs
by Eric B. Sirota
featuring A Good Day
July 24, 2021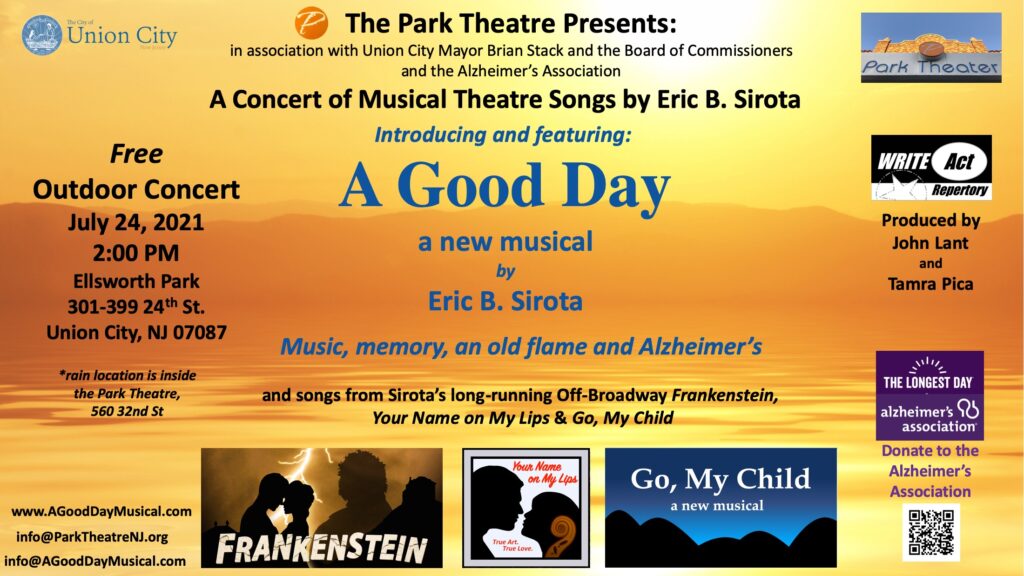 Program
Cast
Dylan Bivings, Daniel Robert Burns, Jay Chacon, Lauren Coccaro, Grace Juhe, Andrew Leonforte, Rebecca Monk & Devyn White
Crew
Josh Steckler, Matthew Lucatamo, Vanessa Estaniel & Victoria Kuo
Music Director – Kent Kim
Composer/Playwright – Eric B. Sirota
Producers – John Lant & Tamra Pica
PROGRAM
Frankenstein:
Once in a Dream (Victor Frankenstein)
     – Daniel Robert Burns
Here, in My Heart (Elizabeth & Victor)
    – Rebecca Monk & Daniel Robert Burns
God in Heaven (Victor)
    – Daniel Robert Burns
I Write by Candlelight (Elizabeth)
    – Rebecca Monk
Why (Creature & Victor)
    – Jay Chacon & Daniel Robert Burns
Day of Wrath (Creature)
    – Jay Chacon
Go, My Child:
Party at the Ziggurat (Priests)
   – Ensemble
Tifania's Lament (Tifania)
   – Devyn White
Stranger from Damascus (Eliezer)
   – Dylan Bivings & ensemble
Sarai's Soliloquy (Sarai)
   – Rebecca Monk
Bringer of Life (Sarai, Abram & Ensemble)
– Dylan Bivings, Lauren Coccaro & Ensemble
SHORT INTERMISSION
Your Name On My Lips:
A Love Like That (Beth)
   – Grace Juhe
Farewell, My Paintings (Sam)
   – Dylan Bivings
He Will Paint Me (Cate)
   – Devyn White
Magnetic Moment (Grand Canonical Ensemble)
   – Andrew Leonforte & Ensemble
Night is Burning (Sam & Fantasy Suzanna)
   – Dylan Bivings & Grace Juhe
A Good Day:
Sundown (Ensemble)
   – Andrew Leonforte & Ensemble
A Ghost or an Angel (Sam)
   – Jay Chacon
Oh, Mama! (Sophie & David)
  – Lauren Coccaro & Daniel Robert Burns
Feel (Sam & Sophie)
   – Jay Chacon & Grace Juhe
Dreams We Left Behind (Sam)
   – Daniel Robert Burns
Love Renewed (Sophie & Paul)
   – Lauren Coccaro & Dylan Bivings
Evening Star (Sam)
   – Jay Chacon
Remember (Sam & Suzanna)
   – Jay Chacon & Rebecca Monk
A Good Day (Ensemble)
   – Ensemble
Presented by the Park Theatre and Write Act Repertory,
under the artistic leadership of John Lant and Tamra Pica,
in association with
Mayor Brian Stack and the Union City Board of Commissioners,
and the Alzheimer's Association.
Eric B. Sirota is a New Jersey based composer/playwright (and research physicist).  Five of his musicals have appeared on New York stages included Frankenstein which played Off-Broadway for 3 years. He is also part of the group of dedicated volunteers and arts professionals who have worked tirelessly over the past two years to refurbish the historic Park Theatre in Union City as an active venue for the arts, in an initiative to save the Park Theatre.  (www.ParkTheareNJ.org)
Eric B. Sirota's newest musical in development is A Good Day.
Music, memory, an old flame and Alzheimer's – You just hope for a good day.
A widowed artist, finds himself brought into the life of his childhood girlfriend, his first love, his muse, who spurned him over 50 years ago, and who now has Alzheimer's.
Sirota says,  "My father had Alzheimer's, and in his last years, the only way to reach him was through music, singing songs he knew earlier in life.  I decided I wanted to write a musical touching on the power of music to rekindle memory and awaken the mind.  I received the Denis Diderot Artists-in-Residence grant to attend the Chateau Orquevaux artist's residency in France in 2019.  There I wrote A Good Day." 
Frankenstein is a sweeping romantic musical about the human need for love and companionship, based on Mary Shelley's classic novel.  It has been playing Off-Broadway in NYC for three years, up until the pandemic.  It had been scheduled as the restored Park Theatre's inaugural production in the Spring of 2020, but was postponed due to the pandemic.  It will be coming to Park Theatre this coming season with both weekend performances and weekday matinee performances for schools.  (www.TheFrankensteinMusical.com)
Your Name On My Lips is a romance about following one's passion with obsession and commitment.   A self-taught painter struggles to get into an art institute, while fighting to hold onto the love of his life, as the materialistic world tugs at her.  It had two productions at Theater for the New City in NYC.  (YourNameOnMyLips.com)
Go, My Child, is about leaving one's parents, infertility and the search for truth, set against a background of xenophobia;  Set in ancient Mesopotamia, it is an original account of the early lives of familiar biblical characters.  It was presented as staged readings at the Actors Temple Theatre in NYC, and will be produced at the Park Theatre as a large cast musical, and part of the Park's community outreach programs.  (www.EricSirota.com/go-my-child/)
This concert is associated with the Alzheimer's Association's "Longest Day" activities.  The Longest Day is the day with the most light- the summer solstice. To shine a light on Alzheimer's and dementia, people from across the world fight the darkness of Alzheimer's through activities of their choice.  (Events need not take place exactly on that date.)  We are participating in this to advance the care, support, and research efforts in honor of all those who have been diagnosed with the disease, and in memory of my father Dr. Milton Sirota.  To make a donation to the Alzheimer's Association in honor of this concert, you can go to: http://act.alz.org/goto/AGoodDayMusical  
BIOS
Eric B. Sirota is a composer/playwright, having written 5 full-length musicals.  He studied musical composition at Brown University.  He is also a highly published research physicist with a PhD from Harvard.   His musical, Frankenstein, played Off-Broadway at St. Luke's Theatre for 3 years, following earlier development at NYMF.  Your Name On My Lips had two productions at Theater for the New City, where Sirota was a resident playwright.  Go, My Child had staged readings at the Actor's Temple Theatre prior to COVID.  In 2019, he was the recipient of the Denis Diderot Artists-in-Residence grant to attend the Chateau Orquevaux residency where he wrote A Good Day.   As composer (with librettist Vin Morreale Jr.), he wrote A Day at the White House, which was recently recorded as a radio podcast.  Other works include The Flemington Oratorio and a dramatic musical setting of Unetane Tokef.   (www.EricSirota.com)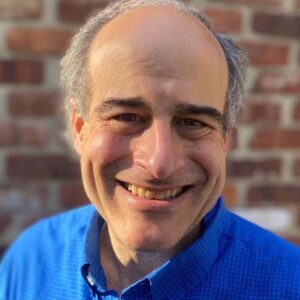 Dylan Bivings is a graduate of Five Towns College with a BFA in the Theatre Arts. He has been in a number of New York City and Regional Theatre shows. Some of which include Samson the Musical (Raca), The Proust Virus (Thrall), Go My Child (Priest 1/ Eliezer), We Will Rock You (Khashoggi) Evita (Che), Frankenstein (Henry), Wicked City Blues (Harry), Aida (Ensemble/ Mereb u/s), and more. He is also slated to play Daniel in 54 Sings Once on this Island once performance venues are allowed to open up again. When he is not acting, he also spends his time writing original pieces. Writing is a huge passion of his and he is currently working towards trying to get one of his works produced. He would like to thank his friends and family for always supporting him in his career and being with him through every step of the way.
Daniel Robert Burns is an Off-Broadway Actor, formerly starring in Eric Sirota's own Frankenstein (Victor Frankenstein), and Write Act reps's Wicked City Blues (Mickey Morrison), and FEVER's The Mad Hatter's G&T Party (The Mad Hatter). Other credits include New Ambassador's production of The Man Who Came to Dinner (Banjo), and the multi- award winning One-Act by David Adam Gill, More Myself Than I Am (Edgar Linton), and a cameo role in Leaving Normal Production's upcoming Pilot, The Big Time.
Jay Lucas Chacon is excited to be in his first performance since March of 2020!
Jay founded the startup ViOp Productions, a virtual opera production company set up to employ artists to create and continue working through virtual medium creating opera on film, filmed concerts and online recitals, and virtual readings. He produced and performed in a duet recital Crossing Paths as well as Rodolfo in a film version of La bohème Act 3 by Leoncavallo, The Spirit of Christmas; a holiday special, and The CHESS Project featuring music from the musical Chess, where Jay sang the role of Anatoly.  
Companies Jay has worked with are On Site Opera, New Camerata Opera, Apotheosis Opera, Long Island Opera Company, Saint Petersburg Opera Company, Cedar Rapids Opera Theatre, and Bronx Opera in such roles as Innkeeper/Governor in Man of La Mancha, George Page in Sir John in Love, Figaro in The Marriage of Figaro and The Barber of Seville, Schaunard in La bohème, Alfio in Cavalaria Rusticana, and The Count in Capriccio. In the summer of 2019, Jay made his international debut in Montréal as a guest artist with L'Institut Canadien d'Art Vocal performing the role of Rodolfo in the Leoncavallo La bohème.
Lauren Coccaro is very excited to be back on stage as a soloist for this amazing concert! Lauren is a graduate from Five Towns College with her BFA in Theatre Arts. Some of her past credits include Elizabeth understudy in Frankenstein the Musical, Audrey in Little Shop of Horrors, Tracy Turnbald in Hairspray, Eponine in Les Miserables and she has worked with MTI as a dancer, singer and actor in their choreography DVD's. She would like to thank her friends and family for all their endless support. Break a leg to the cast and crew!
Grace Hwoang is a singer-songwriter, music producer, opera singer and actress who hails from Los Angeles, California. Coming from a solid background of classical music, having had training in classical piano from the age of 7 and earning her Bachelor's of Music Performance degree in Opera at the Aaron Copland School of Music, she has performed in various concerts and recitals as an opera singer and musical theater actress, as well as writing her own original music. Her most recent venture includes producing and releasing her first pop-genre single "Heaviness." She regularly shares her works on her Instagram page and Youtube channel, as well as Spotify and Apple Music under the name "Grace Juhe".
Andrew Leonforte is an Actor/singer/songwriter born and raised in Bronx, NY. He has two songs out on major distribution platforms which were both well received. He has been involved in musical theatre since the age of 8, some credits include John Handly in All Hands On Deck (National Tour), Crutchie in Disney's Newsies (Regional) Chad in Disaster, (New York) Rapunzel's Prince in Into the Woods (New York) You also might recognize him as Young Joe Gideon in Fosse/Verdon on FX. Special thanks to his parents for their continued love and support.
Rebecca Monk is so excited to be singing the beautiful music of Eric Sirota again! She has been featured in two of Eric's shows, Your Name on my lips and Frankenstein. Other favorite productions include Alice in Bright Star, with 4th Wall Theatre, Mother in Ragtime, Once, the Musical and Always, Patsy Cline with Midtown Arts Center. Rebecca also owns Noteworthy Academy of Music where she teaches voice and piano. Make sure to follow Noteworthy on Instagram and Facebook! Noteworthy Academy of Music
Devyn White is excited to be on stage again performing Eric Sirota's work alongside so many talented performers. Recent Off Broadway credits include: The Imbible, Vox Lumiere's Phantom of the Opera, Miles Thorn Master Illusionist, and 420: The Musical. She would like to thank her husband for his support and God for His many blessings. @devynreneewhite
Kent Jeong-Eun – Kim Kent Jeong-Eun Kim is a musical director, composer and pianist, with an MFA from NYU's Tisch School of the Arts.  As music director, recent Off-Broadway credits include: "Frankenstein" and "Swing".
Josh Steckler – Josh Steckler is very excited to be working with the Write Act Repertory Theatre! Hailing from Aurora, Colorado, Josh is currently a student at Fordham University in the Bronx pursuing a bachelor's degree in Film and Television, but his true passion is acting. At Fordham, he is a part of their mainstage theatre group, The Mimes and Mummers. With this group, he has performed as Moritz Stiefel in Spring Awakening, Dennis in All Shook Up, Richard Sumner in The Desk Set, and Prince Herbert in Spamalot. In addition to being on stage, Josh has also been heavily involved on the production side of the shows. He also has experience doing improv comedy, screenwriting, and video editing. Josh would like to thank you for taking the time to read his biography, and if you are interested in contacting him, his email is [email protected].
Matthew Lucatamo – Matt is an actor, singer, director, newborn-baby-playwright, and freelance stage manager from Newark, Delaware. He is a graduate of the University of Delaware where he received a B.A. in English with minors in Music Management and Women's Studies. During his time as an undergrad, Matt studied Playwriting under esteemed playwright Chisa Hutchinson as well as vocal jazz under the direction of Dr. Duane Cottrell. While Matt's notable stage credits include Spring Awakening, (Georg, University of Delaware) and The 25th Annual…Spelling Bee (Chip Tolentino, Milburn Stone Theatre), he is no stranger to stage managing (American Psycho; Chicago; Daddy Long Legs (Milburn Stone Theatre)) and directing (A Funny Thing…Forum; 9 to 5: The Musical; Mamma Mia!; (University of Delaware)). His special skills include a cappella performing, music direction, and arranging; an Italian-American accent that would make Joey Tribbiani proud; and the ability to list every Sara Bareilles album in track order. Matt is currently non-union and is seeking representation.
Vanessa Estaniel – Vanessa Estaniel is a Philippine native, trained vocalist of many genres, songwriter and a well rounded musician. She is currently studying Vocal Performance at Shenandoah Conservatory in Winchester, Virginia. Though performing is her passion, Vanessa is eager to pursue a career in stage directing. She is beyond blessed to be a part of this production!
Victoria Kuo – Victoria Kuo is a rising senior studying engineering and creative writing at Carnegie Mellon University. As a self-proclaimed spreadsheet-lover, she got her first taste of theatre through stage and production management in college and hasn't looked back. When she's not working, you can find her laughing very loudly at her own jokes, starting TV shows with too many seasons, or drinking chocolate milk.
Tamra Pica – Tamra's theater and television work spans nearly 30 years and over 250 productions as a prop designer, AEA Stage Manager, producer and casting director of plays, musicals, dance and ice shows.  She's worked in television for companies such as Disney, Sony, Cartoon Network, NBC Studios, TBS, CBS, MTV, ABC and FOX in production and development.  Recent credits include Caldwell's Bomb for the New York Venus/Adonis Theater Festival, Renewal, Your Name on My Lips at Theater for the New City and the long running musical Fabulous! Queen of the New Musicals where she served as a casting director and producer. She currently works at Disney on the new "Princess" set to reveal next year, internationally.
John Lant – John is a 40-year veteran in the entertainment industry and has been involved in over 600 television, film, music tours, and theatrical productions as a creative director, consultant, and/or above the line entity. He currently lives in New York, working as production manager at Carnegie Hall for 13 years pre-COVID and out of producing offices here and in LA. An award-winning producer, director, writer, lighting and set designer, John has mounted productions at Cal Arts, Ricardo Montalban, Powerhouse, Long Beach Playhouse, Glendale Center, Hollywood Playhouse, LATC, Ivy Substation, the Jewel Box Theatres and Write Act Repertory in LA. His work and productions garnered Drama Logue, Diamond, ADA, NAACP Awards, LA Weekly and Backstage Picks of the Week, Garland and Valley Theatre (LA) nominations. John's professional work includes The Alliance Theater in Atlanta and in New York at Lincoln Center, Juilliard, Lucille Lortel, Circle Rep, WPA, LOOM, Ensemble Studio Theatre, Lamb's, Equity Library, Hudson Guild, Ken Davenport, St. Luke's, St. Clements, 777, and Elektra Theatres. National Tour work includes Phantom of the Opera, Evita, Singin' In The Rain, One Mo' Time Aeros and worked with Jonathan Sanger at Chanticleer Films, on two shorts that won an Emmy and an Oscar, and mentored under Howard Storm. Scripts he has developed include Children's TV Pilots Symphology, Carrot Talk, and cable-themed Anonymous Confessions, and several adapted musicals. John received the California Service Award from the State Legislature for his Community Outreach and Service to the Arts in 2000, 2001, 2008 and 2009. In NYC, he is current Production Manage rat Carnegie Hall, and on down time redesigns, redevelops and refurbishes theatres including the upstairs Davenport Theatre, Elektra Theatre, Times Square Arts Center Theatres, the Richmond Shepard, and an exciting new project for late Summer 2017, refurbishing an old off-Broadway in the Theatre District to its old glory. John's 30-week off-Broadway production of FABULOUS! The Queen of Musicals! was recently licensed through Steele Rights. This past year he produced 2 off-Broadway Shows at St. Luke's Theatre: An Equity production of 2 By Tennessee Williams and the new musical Pillars of New York. He is the current Producing Artistic Director of Write Act Repertory and Founding Member of newly formed N.M.C.L.O. (New Musical Civic Light Opera), concentrating on the development of second stage full musical workshop / productions for off-Broadway shows, and is also the Directorof Development for Twisted MediaNYC, his current musical production Lili Marlene played in LA prior to coming to Off-Broadway, and now current off-Broadway production of Eric Sirota's Frankenstein, Michael Antin's Swing! And Cornell Christianson's Wicked City Blues reside here at St. Luke's Theatre and Actors Temple respectively. He has produced 12 Off-Broadway Plays and is currently the Producing Artistic Director of The Park Theatre in Union City, NJ. A 1300-seat regional Broadway sized roadhouse venue.