The concert scheduled for July 31, indoors at the Park Theatre is POSTPONED, for the safety of the audience.  A new date will be forthcoming.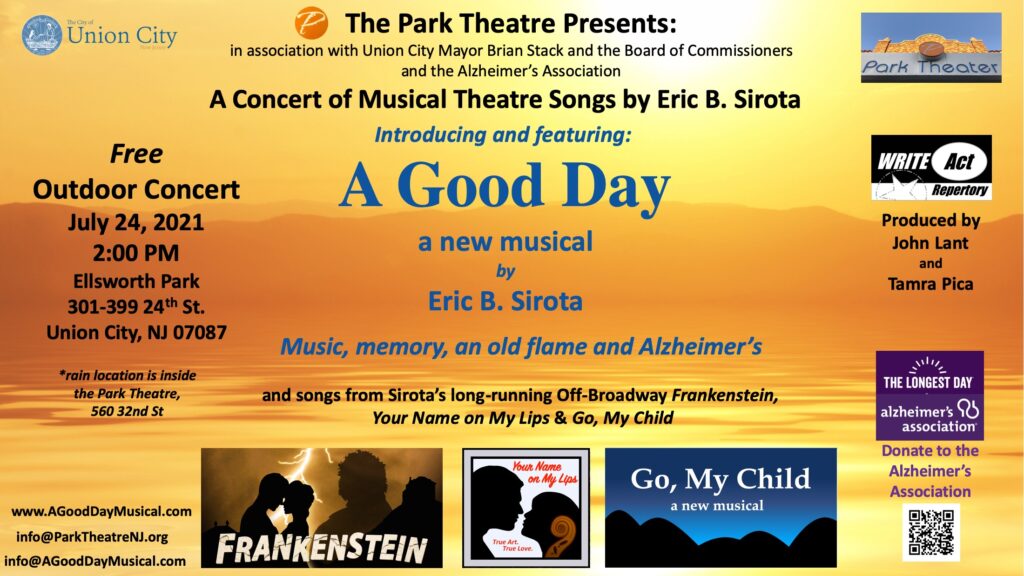 A Good Day
a concert of songs from the musicals of 
Eric B. Sirota
 featuring Sirota's new musical A Good Day
Outdoor concert  – Free admission
Saturday, July 24 at 2 PM
Ellsworth Park, Union City, New Jersey
The concert will feature songs from:
Frankenstein
Go, My Child
Your Name On My Lips
and
A Good Day
Presented by the Park Theatre & Write Act Repertory 
in association with
Union City Mayor Brian Stack and the Board of Commissioners
and the Alzheimer's Association
Donations to the Alzheimer's Association are welcome: http://act.alz.org/goto/AGoodDayMusical
———–
A Good Day

Music, memory, an old flame and Alzheimer's 
Paint the sunrise in your mind.
Remember music left behind.
Untangle memories intertwined.
Don't let the sun down.
Years ago as a child, Suzanna (now 72), instilled the love of music in her friend. But she gave up the cello and music, and gave up that young man (Sam) who loved her. She moved on with her life and eventually he did too.
Now, 50 years later, Suzanna has Alzheimer's, and her children would do anything to hear their mother speak their names.

Please contact me if you are interested in this work; and want further info.
email for more info